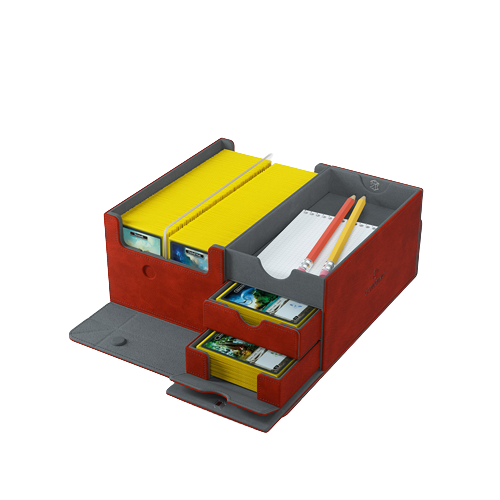 Gamegenic - Card's Lair 600+ - Red
20328
Product Details
UPC-Strichcode:
4251715410424
The Games' Lair 600+ box brings together the best of Gamegenic, a truly smart all-in-one solution.
This innovative product will meet even the most complex gaming requirements. The Games' Lair 600+ can hold a variety of games, gaming accessories, miniatures and card games. GENIAL: The fully removable lid easily converts into a magnetic dice tray! Absolute versatility in a box so compact it even fits in most regular backpacks.
The Games' Lair 600+ holds up to 600 double-sleeved or 800 single-sleeved cards in the main compartment. When card storage is not the purpose, the acrylic divider can be removed to store any type of deck boxes, games or accessories.
The box contains a total of 4 drawers: 2 removable drawers with ingenious magnetic flaps that guarantee effortless pull-out and easy access to sleeved cards or even entire decks; right down to the last card. Plus 2 more extra-large compartments for even more tokens, dice, accessories, etc. The top compartment of the Games' Lair 600+ can be used for life counters, oversized cards, traditional writing pads, pen-and-paper accessories and many other things.
Save this product for later